Post by redsox040713champs on Oct 15, 2016 8:03:34 GMT -5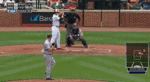 Yoan Moncada hit .310 / .415 / .500 in Salem in 262 PA after the 2015 ASB, with a .212 K rate. He performed the next year as expected, and the consensus on his ETA is another half year.
Rafael Devers hit .333 / .375 / .557 in 264 PA in Salem this year starting July 1, with a .186 K rate. That's pretty much just as promising.
Note that Andrew Benintendi hit .341 / .413 / .563 in Salem in 155 PA this year, with an
.059
K rate. He was in MLB in less than 2 months. It's very clear from a scouting perspective as well that lower K rates mean a faster path to MLB. Devers had a better K rate than Moncada at Salem, especially given his higher Iso. That pretty much offsets the lesser IsoD and puts him on as fast a track.
Guys who can dominate high-A pitching, as a rule of thumb, don't take another full 2 years. They show up some time between the start of May and the end of July of the second following year. That's Devers' ETA.
Yes, I know Devers could fast track. He could also struggle or get injured. My guess is that he's knocking on the door at some point in 2018, although like I said, if he tears thru Portland and is at AAA by July, we could see him in Aug or Sep this upcoming year. At some point in 2018 is more realistic, but I projected him conservatively as 2019 which would basically mean he's more of a replacement for Hanley Ramirez if Ramirez's option doesn't trigger.
To me the question is do you block Sam Travis with Encarnacion? Encarnacion is a much better offensive player now, not even close, but then you have to commit to a big contract to a player who's more likely to decline and just as bothersome, the QO situation would result in the Red Sox losing a badly needed draft pick. At this point, as the top players graduate or near graduation from the minors, the Red Sox need to restock their farm system as it is no longer as deep as it had been and losing that pick, even at 26, would be a big detriment.
Perhaps, if Devers does "fast track" and to prevent losing a draft pick, but help the lineup out - I don't believe that Sandoval at 3b and Shaw at 1b is a great way to start the season, would be to sign Beltran for a season if they can.
And I do like Sam Travis a good deal and think he can be a good player. Put it this way, I'm a lot higher on Sam Travis than I as Travis Shaw who was awful the last four months of the season and to me, I consider little more at this point than depth or trade bait.
As an askide, my knee jerk thought was that the Red Sox should always save the money for that big free agent winter after the 2018 season and that Jose Fernandez was the guy to get and spend all that money on. Makes me so sad to think that this supremely talented pitcher is gone at such a young, young age.
The Red Sox at this point should make Mookie an offer he can't refuse.