Post by ericmvan on Dec 16, 2018 0:12:58 GMT -5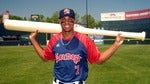 He may hit any empty .250, but I'm more than fine with his offense. I want the more defense from our catcher. I'm ok if they trade Leon and let Blake and CVaz split time, though.
My biggest issue with trading Swihart is that it's sell-low. Before his injury, he hit reasonably well. In just under 400 PA, he was worth 1.8 fWAR and he OPSed just over .710 in 103 games. He was unfairly demoted because, you know, John Farrell. His defense needed work, but he's always had a strong arm and good pop times. His framing and calling has clearly gotten better. Given his use this year and erratic playing time, I'm inclined to put down the overall 64 wRC+ as a product largely of that, particularly since his performance improved quite a bit after Vazquez went down. He had 6 2b and 3 hr while hitting .250 in the second half, vs just 4 2b while hitting .207 in the first half. I think all the time off probably hurt him to start the year, too. Extrapolate his second half numbers over 400-450 PA (and I think that's absolutely reasonable given that they were quite similar to his early-career numbers), and you're looking at .250 with 25 or so 2b and 10-15 HR. And given that he's still had just 600 MLB PA, he's probably got a bit more coming. He hits a good number of LD (24% career, though that's prob not stabilized yet, the eyeball test supports it), so his high career BABIP of .342 is probably less fluke and more just his batted ball style (the good speed obviously helps). He hits to all fields with a 40/30/30 breakdown. What all of that says to me is that he's probably a true-talent .260-.275/.330/.400 hitter, which is quite good for a catcher. I can easily see him OPSing .800 at peak. He has a plus arm, plus pop times, throws runners out at 35-40%, and is a good base runner despite being a catcher. He's also an above-average framer. He probably needs a lot of work calling games, and he has intermittently had problems blocking the ball. But I also think all the tools to be an above-average *defensive* catcher are there. And if it all comes together (and I really don't think he's all that far away, plus he's still young for a C), you're talking an above-average overall C who's a 2.5-3 WAR player, possibly more. Again, pre-injury he was worth 1.8 fWAR/400 PA, or 2 fWAR per 450 PA/110-115 games...as a called-up-early-due-to-need 23 y/o. I just don't see any way it makes sense to trade an asset like that at his near-lowest value, especially not for a team trying to limit future expenditures to extend their own players.
All true, but if there are two teams that think like you do, in theory you can get them to bid his price up to what he's worth. That's probably the second likeliest outcome, after dealing Leon to a club that wants a pennant-caliber backup who's a defensive whiz and a guy who can teach a younger regular how to call pitches.
I've said all along that I'm all for a Swihart trade, but only if the general reaction, is "hey, they got that for Swihart ... someone thinks he's as good as we do!"