Post by telson13 on Dec 3, 2018 15:05:03 GMT -5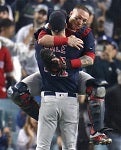 They could afford to bust on free agent signings because of how good the farm system was (along with their young cheap major league core) when they signed those guys.  They won't be able to afford busts when they no longer have that.
We really don't know what the Red Sox' plans are so it'll be interesting.  I see some pain coming regardless of the plan though.  I love the plan to find the next Max Scherzer or JD Martinez, but that's not really what I expect to happen because it's so difficult and rare and teams are getting a lot better with their evaluations.
Just look at it in stages my friend. Your talking about our farm system now, but then talking about Betts, Bradley, and Erod making a ton which is 3-4 years away.  Your talking about guys that aren't even in the system yet, so you can't predict what it looks like that far out. Which is my whole point. It's down the road when money could really start hurting this team, not the next few years.
I think that's generally true, there will be stages to the process. It's not just 3-4 years away, because they're going to need to get under the cap for 2020. That's tougher than it sounds because even with Porcello probably gone and Sandoval's contract done, there are arb raises for Betts and JBJ and Bogaerts's/Sale's new contract, if they stay. There's going to be two smaller crunches I think, rather than one big one; the second will be at 3-4 years as you say, when Mookie is up for prob $35M AAV and Rodriguez, Benintendi, etc are all getting big arb raises. I think if they can wisely navigate the first, and get some prospect value back shedding some bigger salaries or trading redundant players, the second will hurt a lot less because they'll be able to go over cap again. Of course, who knows what the next CBA will hold? One good thing is that although the top of their system is really thin as far as impact guys, they do have multiple useful role players, which should allow them to fill holes in the roster in 2020 at little cost. The impact talent is there at the lower levels tho (at least, there are good signs), and guys like Flores, Casas, Groome, maybe Durran, Northcutt, Decker, Howlett or Montero...they should start popping up and getting close to MLB. Some might be on the cusp, but even at AA/AAA, if they're viewed as potential impact guys, they're valuable in trade...meaning maybe the Sox can swing that 25-and-under TOR SP acquisition, or whatever other low-cost big piece they need.