Post by redsox04071318champs on Jan 24, 2019 16:30:16 GMT -5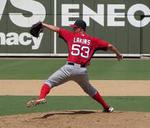 Let me clarify what I'm trying to say - yes Sosa, Palmeiro, McGwire - those guys aren't getting votes, but what I'm trying to say is that I was watching MLB network and they put up a graphic that showed McGriff's offensive numbers weren't far off (very comparable) of Bonds numbers until Bonds decided to cheat and become an all-time offensive guy in the league of Williams and Ruth. Compare Bonds' numbers thru 1998 (which are already awesome) and then look at the ridiculously absurd stretch of 1999 - 2004 - how can you honestly take them at face value and just go by the back of the baseball card?
Bonds was a slam dunk HOFer before that and would have performed at a HOF level before aging took over, but without his PEDs he wouldn't have been putting up those Ninendo numbers.
So because McGriff didn't cheat (or at least there's zero evidence that he did) his numbers got left in the dust and for those who use counting stats to vote, he didn't get a chance to hit his 7 homers during the strike of 1994 to reach the magical 500 mark.
Strange, in a way Rice and Baines got boosted because they were considered clean, yet McGriff somehow got hosed.
The overall point is that I think there were some honest players who got screwed because of the cheaters. How do you think Mike Greenwell feels about Jose Canseco winning the MVP award in 1988 when it was obvious he was cheating while Greenwell wasn't?
Champs, how do you know McGriff didn't at one point take steriods or not either?
That's what I mean. I wouldn't be surprised if steriods started popping up in the 80's and becoming a huge problem in the 90's. There's just not a lot of clarity of knowing if a player was on roids or not. Vote them all in. It happened. MLB turned a blind eye to it.
Put it to you this way. There's zero evidence McGriff did. Can you say the same about Bonds?