Post by ericmvan on Oct 12, 2016 16:50:56 GMT -5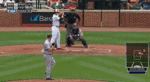 1. Who replaces Papi's bat? Encarnacion is the obvious choice, notwithstanding that he is a RHH and will cost a 1st round draft pick (#26). Could also seek a trade for a LHH 1B such as Eric Hosmer. Where does Sam Travis fit in?

Pablo Sandoval takes Ortiz's spot in the lineup, which improves the defense, and Hanley takes over as DH. Of course it's a downgrade, but there's no improvement that makes sense in terms of benefits versus costs (unless Altanta wants to trade Freddie Feeman for a lot less than he's worth), and they're still good enough to be clear favorites to win the division. If they sign Encarnacion, I'll be able to punt the season. Maybe the team for the foreseeable future. It's that stupid.
Note that if you do sign a DH, you have no spot on the roster for a bat to platoon with Sandoval / Shaw / Holt. That's one of the ways you're losing value offensively (the other being that you lose Hanley's non-trivial DH performance premium) with that move, and hence (when combined with a near 1-win defensive downgrade at 1B) you end up paying a ridiculous amount for an extra win or two ... which simply make you a
really
clear favorite to win the division. Oh, and long before the contract is up you'll likely have a much better player for that lineup spot, for league freaking minimum, in Devers. This team's track record with elite hitting talent has been unreal. It's going to continue.
Travis is in AAA trying to work his way into a platoon role.
2. Who's the starting catcher?

CV and Leon should split time more or less equally to begin with. A smart team could identify the pitchers that can exploit Leon's weaknesses. Swihart (the only one with options left) catches in AAA and tries to get himself into the mix and/or re-establish his trade value.
3. Who's the third baseman?

The assumption that Sandoval is a better defender than Shaw is not backed up by data. You sign Sean Rodriguez to platoon with Shaw (with Holt getting some starts on the road), play Sandoval at 1B (where he platoons with Hanley, with Chris Young and Leon at DH), and wait for Moncada. I'm willing to bet that everyone who fears Sandoval as a starter feared Hanley as well (BTW, my prediction last winter for -5 DRS at 1B proved to be on the nose).
Again, I invite everyone to consider a batting order versus RHP of Pedroia, Betts, Benintendi, Ramirez, Bradley, Bogaerts, Shaw / Sandoval, Leon / Vazquez, Sandoval / Holt, and look at other playoff teams. Actually look at the stats, too ... JBJ and X are better than the 5th and 6th best hitters on every other team.
4.
Do we change any starters?
I sure as hell hope not, since that would be senseless. Who would you trade? Not Porcello or Price. E-Rod has insane upside. Pomeranz has some health questions and you'd be selling low on second-half performance (I think he'll be much closer to his SD version if healthy). And no one would give you what Wright is worth. Keeping all six gives you pennant-winning depth. Whoever ends up as #6 probably makes 20 starts.
5.
Who fills out the bullpen?
Kimbrel, Kelly, Barnes, Ross and the 6th starter (assuming no injuries/trades) seem like locks. I'll assume Smith is not ready to start the year and Taz/Abad are gone. Hembree is out of options. Does Koji and/or Ziegler return for one more year at short money? Can Robbie Scott make the big club or will he ride the shuttle? Is it worth spending big bucks in the bullpen?
You re-sign Koji. You probably want to pick up a LHR to complement Ross. Scott is in AAA as a guy who can ride the shuttle. Hembree gets moved the first time everyone is healthy and/or when Smith returns.
6.
Which prospects are likely to be traded to fill out the roster? Does Moncada's awful September free him up in Dombrowski's eyes for a trade? What about Leon/JBJ's awful ALDS? Will Benny's trade value be too high to pass on a potential blockbuster?
You could trade anyone from 8 down except Hernandez, who will be useful as a shuttle guy, if you have a LHR you want to target. I haven't looked into them at all, but it seems unlikely that you'd give up much of value if you target a guy with c. 2 years of control left.
You had a 106-win team (with neutral karma, against neutral opposition), except it may have been better than that because the pitching improved dramatically after Bannister went into the dugout. If they don't understand how good the team is, and start making major moves (let alone ones of the caliber of the Kimbrel trade) ... well, I just don't buy that DDo is that stupid, and the entire analytics department ought to be saying similar stuff to him.
Really, the most important change would be to hire a new pitching coach, and come up with a way to essentially take decisions on lifting starters and managing the pen out of JF's hands. For instance, the pitching coach monitors the scouting side, Bannister does all the analytics, they talk continually, and JF's role is to follow them when they agree (which should be most of the time) and be the tie-breaker when they don't. And you pick up his 2018 option only on the condition that he agrees to do that.
Eric,
I know #1 is hyperbole but still. I don't think EE is a need but to react that strongly to signing one of the top 10 RHH hitters in the game is crazy.
Go to the "EE Value Estimation" thread and put your numbers in. Then we'll see.
I think even you can admit your numbers (which I really enjoy reading and think they have value) tend to be between optimistic and out of this world crazy when it comes to evaluating Sox players.
Yeah, like I insisted all winter that Porcello was a proven #2 starter, that Wright was definitely a #3, and that Hanley would be a perfectly adequate (-5) defender at 1B and bounce back as a hitter.